Short video for Global Appeal 2022 to End Stigma and Discrimination Against Persons Affected by Leprosy
To choose a different caption language, click "Settings" in the bottom-right, click "Subtitles" and select your own language.
Sasakawa Leprosy (Hansen's Disease) Initiative* is inviting the world's philanthropic foundations to join the next Global Appeal to End Stigma and Discrimination against Persons Affected by Leprosy, to be launched in January 2022.
Since it was initiated in 2006 by Yohei Sasakawa, WHO Goodwill Ambassador for Leprosy Elimination, to draw attention to the deep-rooted discrimination that persons affected by leprosy and their families face, the annual Global Appeal has received the support of influential bodies with global reach.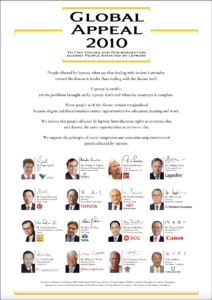 Much progress has been made in recognizing leprosy as a human rights issue since the first Appeal. But many challenges remain for people who have experienced leprosy, or Hansen's disease, and these challenges have been exacerbated by the impact of the coronavirus pandemic on this already marginalized community.
For Global Appeal 2022, we are calling on philanthropic foundations committed to a world in which human dignity and human rights are respected to show their support for persons who have experienced leprosy and their families and add their voice to the Appeal.
If your organization is interested to endorse Global Appeal 2022, please email us for more details or click on the link below for a quick endorsement.
We look forward to hearing from you.
contact: sasakawa_ga2022@shf.or.jp
Google form for a quick endorsement: https://docs.google.com/forms/d/e/1FAIpQLSfWaFgkznD5P8srw2ZH9FoPeJDDJMsMbgoHt9lgc4KIyn5aPQ/viewform
For more information on the Global Appeal, please visit:
The Global Appeal (The Nippon Foundation website)
Summary Booklet of the Global Appeal 2006-2020(PDF)
*Sasakawa Leprosy (Hansen's Disease) Initiative is a strategic alliance between Sasakawa Health Foundation, WHO Goodwill Ambassador, and The Nippon Foundation.