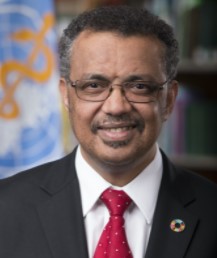 Dr. Tedros Adhanom Ghebreyesus
World Health Organization (WHO) Director-General
Dr. Tedros's profile on WHO's website:
https://www.who.int/director-general/biography
Twitter: @DrTedros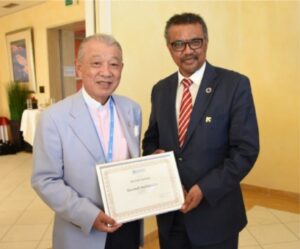 Dr. Tedros with WHO Goodwill Ambassador for Leprosy Elimination Yohei Sasakawa upon the renewal of his appointment (Geneva, 2018).
LB (Leprosy Bulletin): Thank you for your time during this crisis period of the COVID-19 pandemic. Please tell us a bit about WHO goodwill ambassadors. What difference has it made to have a goodwill ambassador for leprosy elimination?
Dr. Tedros: WHO goodwill ambassadors are typically distinguished personalities who focus on specific global health issues. They come from various backgrounds and include former heads of state, celebrities from sports or the arts, philanthropists, and other noted individuals.
Goodwill ambassadors can open doors that remain otherwise closed. They get the attention of a variety of people: heads of state or government, political leaders, businesses and entrepreneurs, journalists, donors, and the general public. They can help in raising funds and awareness.
Leprosy is an almost forgotten disease in many countries. We are grateful that Mr. Sasakawa has undertaken visits to numerous countries across the globe. He often meets with kings, presidents, prime ministers, ministers of health, and finance ministers.
But his interactions are not limited to decision-makers. He has always made it a point to meet people affected by leprosy and the communities in which they live.
This has involved travel to remote places and interacting with some of the most disadvantaged groups in society. His visits have been well covered by local and international media as well as through his own bi-monthly newsletter.
As such, his country visits continue to be successful in that he ensures leprosy gets the attention of the highest officials and he is able to share the harsh realities and sufferings (and the happy moments) of people affected by leprosy.
We are all thankful for the contribution he has made to leprosy control programs in many countries. We can now harvest the fruits of his relentless efforts as the leprosy epidemic is slowly but surely fading away globally.
Influenced by the adage "nothing about us without us," Mr. Sasakawa has advocated for the inclusion of persons affected by leprosy, particularly in leprosy endemic countries. This has helped to greatly improve the reach and quality of leprosy services.
LB: The coronavirus pandemic has disrupted health services, including leprosy services, as countries prioritize measures against COVID-19. What do you expect of the WHO Goodwill Ambassador for Leprosy Elimination under these circumstances?

Dr. Tedros: COVID-19 has had a major impact on societies and has negatively impacted many programs. Leprosy control is typically a marathon program; not a sprint. By nature, it tends to slip down the list of priorities when a country is hit by an acute, urgent event like a pandemic, natural disaster, or other emergency.
In the context of a temporary setback in leprosy control because of the COVID-19 pandemic, Mr. Sasakawa's role is as important as ever in making sure that leprosy is not forgotten. The leprosy community can even contribute to addressing emergencies such as COVID-19, by sharing its experience in contact tracing; by opening its hospital infrastructure for acute cases; by addressing mental health needs; and so on. It is also important that he maintains contact with actors in the field — including WHO, national leprosy programs, partners, and affected communities — and that he stays prepared to provide support for leprosy activities when they resume, expand, and ultimately return to their full swing.
LB: The Goodwill Ambassador believes in finding solutions locally and so is keen to resume his visits to leprosy-endemic countries when circumstances permit. Do you have any advice for him concerning his post-pandemic activities?
Dr. Tedros: Following in the footsteps of his late father, Ryoichi Sasakawa, for more than 40 years and having served as WHO Goodwill Ambassador for 20 years, Mr. Sasakawa knows very well what works in what situation. Indeed, homegrown solutions with a firm local stake and fully owned by local governments and communities will always work better than solutions imposed from outside.
COVID-19 has changed the world. The pandemic will recede, but we will not go back to the way things were. Adaptation to the "new normal" will be required. But there are also new opportunities that have come along with COVID-19. These can benefit leprosy control. Digital health has received a major impetus. Virtual meeting platforms enable us to bring people together more than ever before, opening possibilities to train more health workers and provide better coordination and collaboration among partners in the field. Remote diagnosis and patient management have got a boost. Addressing mental health issues is now also much more prominent. All these areas are relevant for leprosy control and WHO would value Mr. Sasakawa's advocacy for expanding the use of these tools.
LB: This year, WHO released a new Neglected Tropical Disease (NTD) roadmap for 2030 as well as a global leprosy strategy for 2021-2030. How optimistic are you that the targets will be met, and how do you see the WHO Goodwill Ambassador contributing to their achievement?
Dr. Tedros: WHO has developed both documents through a broad, consultative process with many stakeholders, including national disease control programs, ministries of health, development partners, donors, affected communities, research bodies, and others. As such, the proposed strategies have been well considered, and although the targets are ambitious, they are realistic. The targets are global, which means some countries will need to set higher national targets and perform better than the global average, while other countries with weaker health systems may define targets that will contribute to these global targets. Several targets may be only achieved in a best-case scenario. I can, therefore, see a role for Mr. Sasakawa to advocate for the new strategy and for doing everything possible to achieve its targets.
I look forward to Mr. Sasakawa's continued interaction with high-level officials as well as with technical partners to remind them about the scourge of leprosy. We also appreciate his commitment to continue to provide funding that can and should be used in the most strategic way to leverage funding from other sources, and in particular domestic funding, so that necessary leprosy control activities can be implemented in the most efficient, effective, and cost-effective way. It is proven that the right investments in control of NTDs, health systems, and health promotion can yield very high economic returns.
A substantial number of countries report only a few leprosy cases. Provided that control activities are maintained and further strengthened, it is expected that many of these will eliminate leprosy in the coming years. For high-burden countries, a significant reduction in disease burden is a realistic goal. We count on Mr. Sasakawa to amplify WHO's efforts to this effect in all countries.
LB: What lessons must the world learn from the coronavirus pandemic? Can some of these lessons apply to leprosy and other NTDs?
Dr. Tedros: In addition to what I have mentioned earlier, we should not forget that COVID-19 knows no national boundaries. Travel restrictions will gradually be lifted and cross-national interactions will again increase. The world will only be safe if all countries and all communities are safe. Hence, it is imperative that all people are reached with adequate control measures. Furthermore, successful COVID-19 control depends on having the right institutional mechanisms in place, adequate funding, trained health workers and volunteers, diagnostic tests, vaccines, and the determination to succeed.
The same applies to leprosy. Achieving zero leprosy will only be possible if the right services are provided to all who need them. This includes not only diagnosis, treatment, and preventive measures, but also disability care, mental health support, and activities to reduce stigma and discrimination. As with COVID-19 control, adequate human resources must be in place, investments in research must be scaled up, and services expanded in scope and reach.