WHO Goodwill Ambassador Yohei Sasakawa attended the 75th World Health Assembly in Geneva, Switzerland, where he met with health ministers from around the world and urged them to work actively to combat leprosy. He also met with the director-general of WHO, Dr. Tedros Adhanom Ghebreyesus, and the directors of four WHO regional offices (AFRO, SEARO, WPRO, PAHO). They agreed to strengthen their cooperation in order to reach the goal of zero leprosy.
[1] The World Health Assembly is the main decision-making body of the World Health Organization (WHO).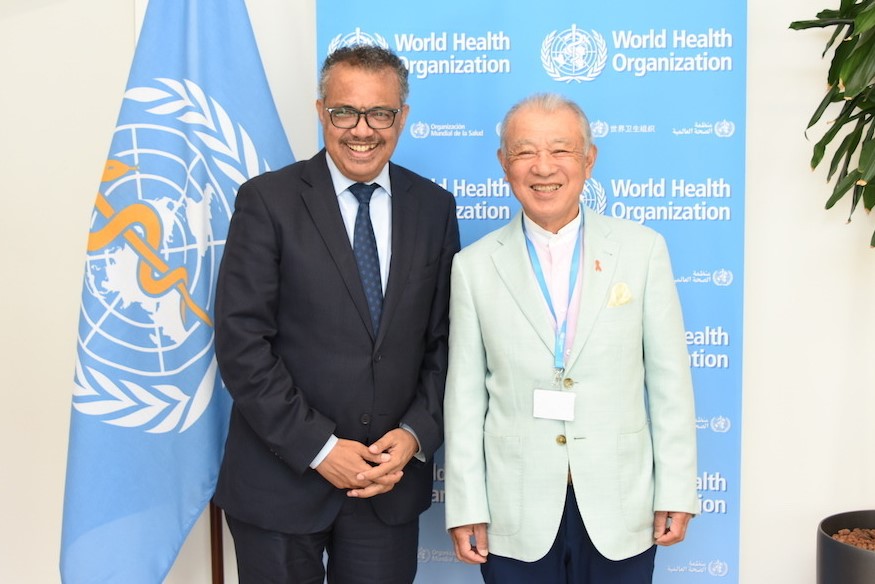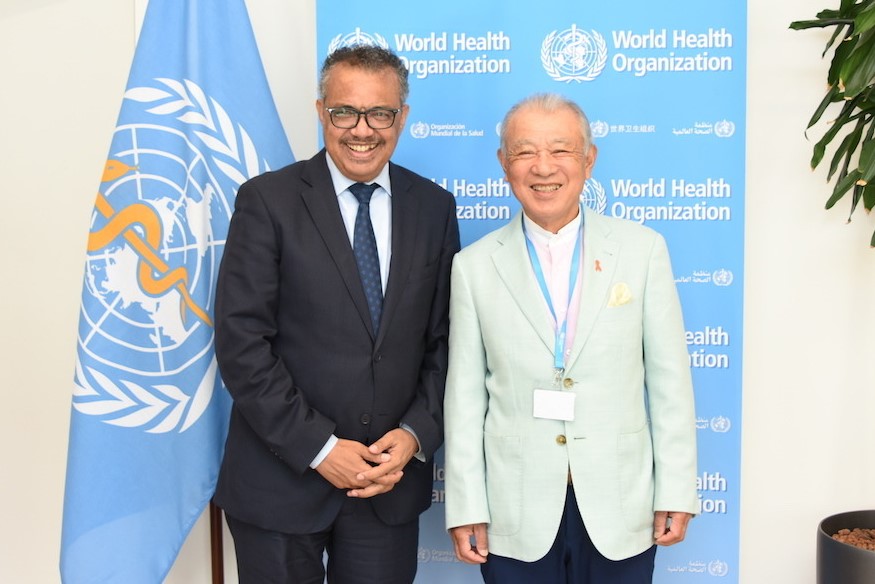 The World Health Assembly opened on May 22 with a high-level session that included speeches from the Assembly's president, heads of state, and special guests. After making his address, Dr. Tedros announced this year's recipients of the WHO Director-General's Global Health Leaders Award. For over 40 years of commitment to leprosy elimination, including the social as well as medical aspects of the disease, Yohei Sasakawa was selected as one of the six recipients. A prior engagement prevented him from accepting the award in person, but he was able to send a video message that called for cooperation with the "Don't forget leprosy" campaign as humanity tries to make it through the "last mile" of leprosy elimination.
After arriving to Geneva on May 23, the goodwill ambassador exchanged views on leprosy issues with health ministers from 12 countries where leprosy is endemic: Brazil, Bangladesh, India, Indonesia, Nepal, Ethiopia, Micronesia, Cote d'Ivoire, Mozambique, Nigeria, South Sudan, and Kiribati.
Meetings with health ministers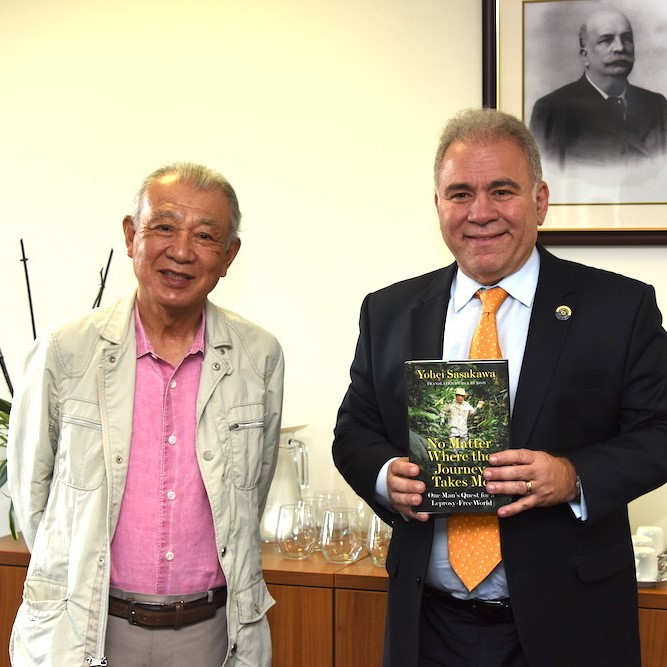 Dr. Marcelo Antônio Cartaxo Queiroga Lopes,
Minister of Health, Brazil
In Brazil, many diseases have been overlooked because of the spread of COVID-19. In the case of Hansen's disease, strengthening early detection and ensuring prompt and correct treatment so that disabilities do not develop is most important. The minister confirmed that efforts to eliminate prejudice and discrimination against persons affected by leprosy are also necessary, and expressed his interest in continuing to work actively with the goodwill ambassador.
---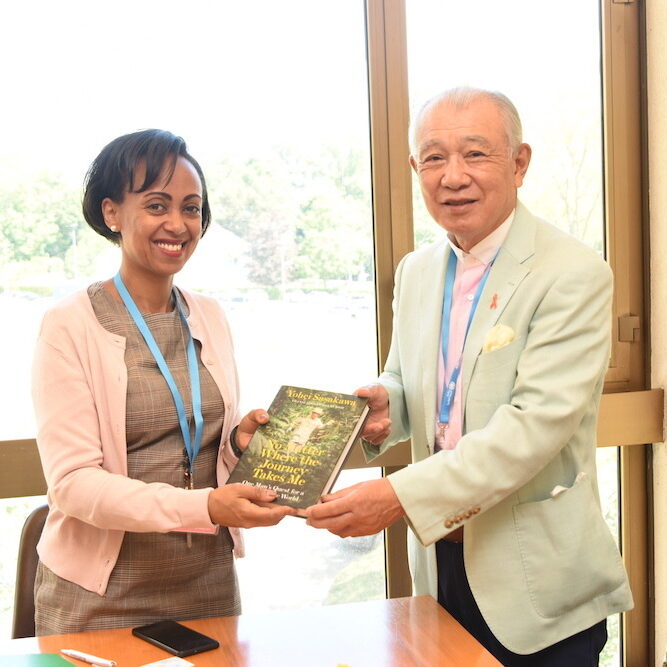 Dr. Lia Tadesse Gebremedhin, Minister of Health, Ethiopia
Ethiopia still has a large number of hotspots, and so the presence of health workers who engage in early detection and treatment of cases at the community level is essential. The minister mentioned a five-story building being constructed by the Ethiopian National Association of Persons Affected by Leprosy (ENAPAL).
The income-generating model for this building has potential to become a good practice for organizations of persons affected by leprosy, and the government would like to support it.
---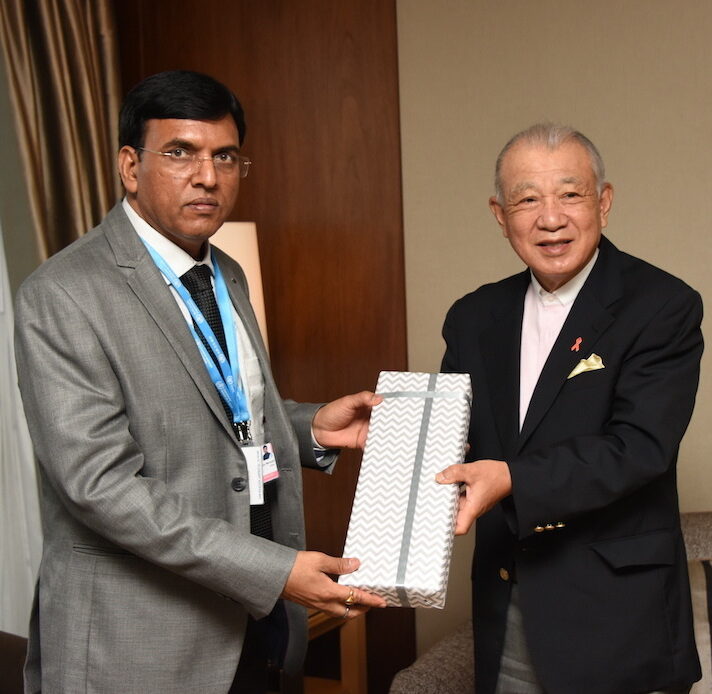 Dr. Mansukh Mandaviya, Minister of Health and Family Welfare, India
Mahatma Gandhi, known as "Father of the Nation," dreamed of eliminating leprosy. While the government has made significant efforts to control the disease, it also recognizes that 75% of the world's cases still originate in India. The current National Activity Plan aims for zero leprosy by 2030. The minister would like to create communities where people think positively and help one another. He feels that the goodwill ambassador's activities embody Gandhi's ideas and ideals, and he wants to work actively together.
---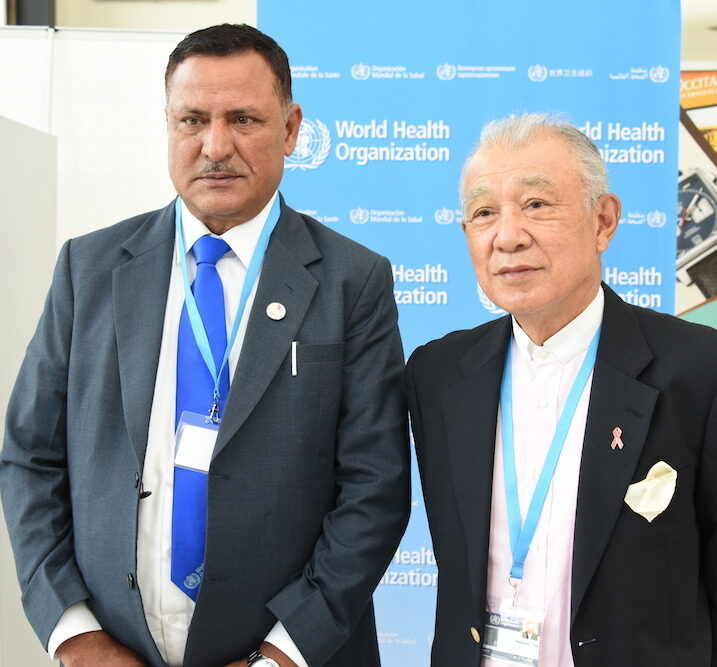 Mr. Birodh Khatiwada, Minister of Health and Population, Nepal
Nepal eliminated leprosy as a public health problem in 2010, but as actions being taken against the disease have decreased, the number of cases has increased. In response, the government is creating a new strategy. To promote early detection, leprosy is now searched for along with tuberculosis.
---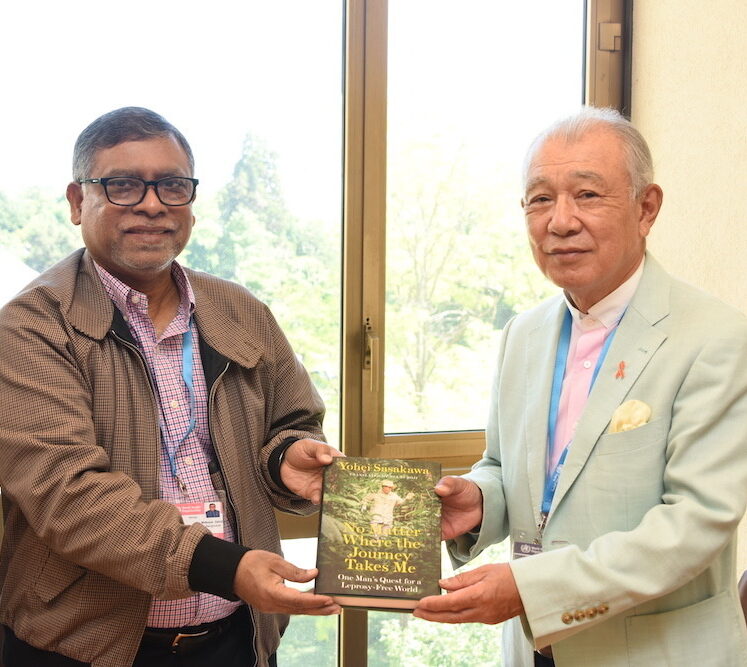 Mr. Zahid Maleque, Minister of Health and Family Welfare, Bangladesh
Prime Minister Sheikh Hasina's support at Bangladesh's National Leprosy Conference in 2019 catalyzed a national
movement to reach zero leprosy by 2030. The government would like to resume activities that were postponed because of the COVID-19 pandemic.
---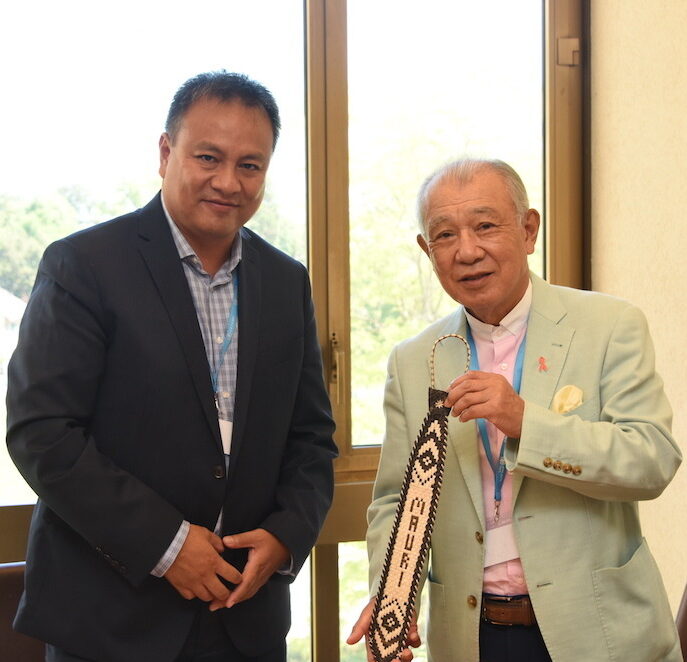 Dr. Tinte Itinteang, Minister of Health and Medical Services, Kiribati
Kiribati would like to strengthen its leprosy program so that it can move more independently to achieve elimination of leprosy as a public health problem. The government would also like to be proactive in administering prophylaxis with single-dose rifampicin, as recommended by WHO.
---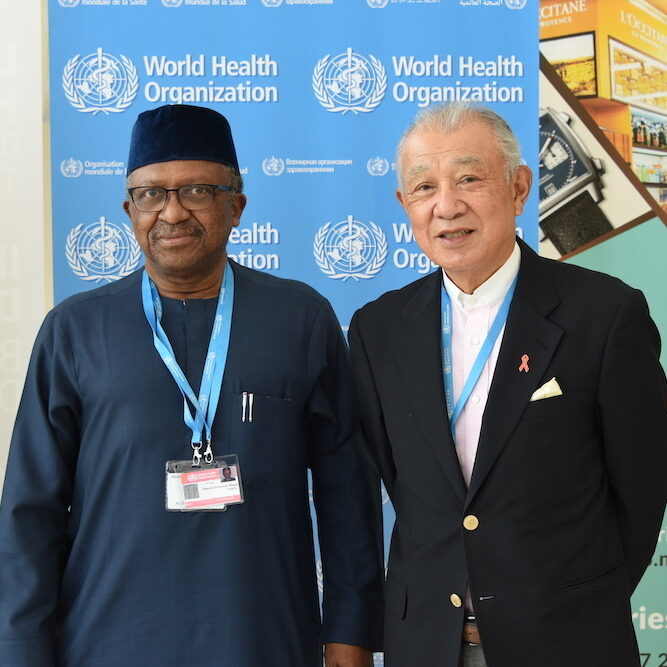 Dr. Osagie E. Ehanire, Minister of Health, Nigeria
Because Goodwill Ambassador Sasakawa has been steadfast in his efforts, many people think of leprosy elimination when they see him. This kind of recognition is extremely effective in the fight against leprosy.
The minister would like to continue to work with the goodwill ambassador.
---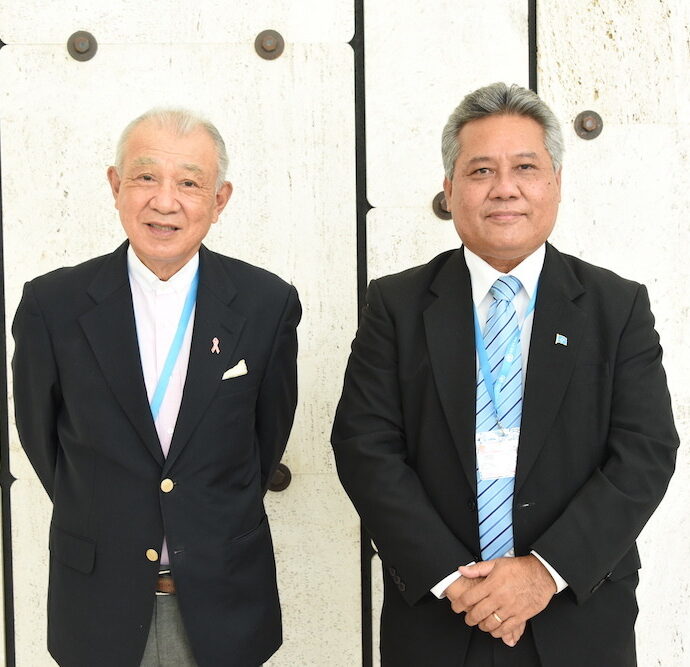 Mr. Marcus Samo, Secretary of the Department of Health and Social Affairs, Micronesia
Before COVID-19, the goodwill ambassador had been planning to visit Micronesia, but he had to cancel because of the pandemic. Now that the situation is improving, the minister hopes that the goodwill ambassador will visit soon.
---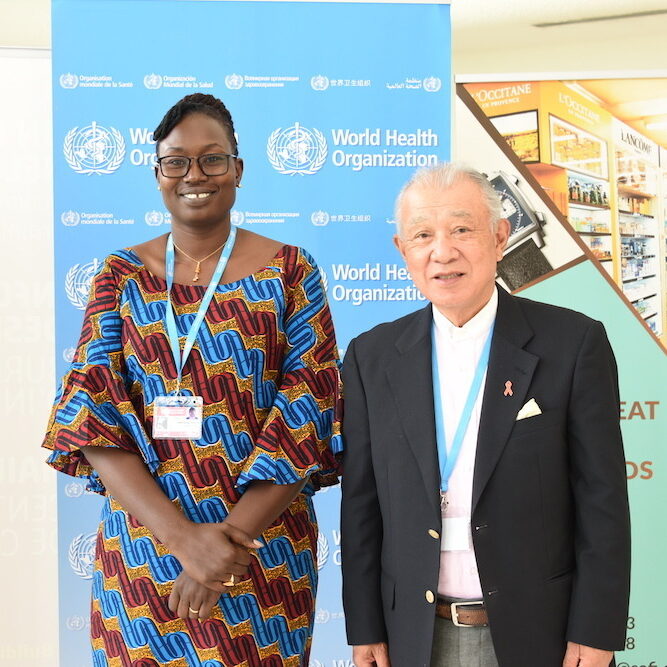 Ms. Yolanda Awel Deng Juach, Minister of Health, South Sudan
Leprosy is not a highly contagious disease, but when one person is affected, the impact on the community is significant. Intervention is needed as well as capacity building.
---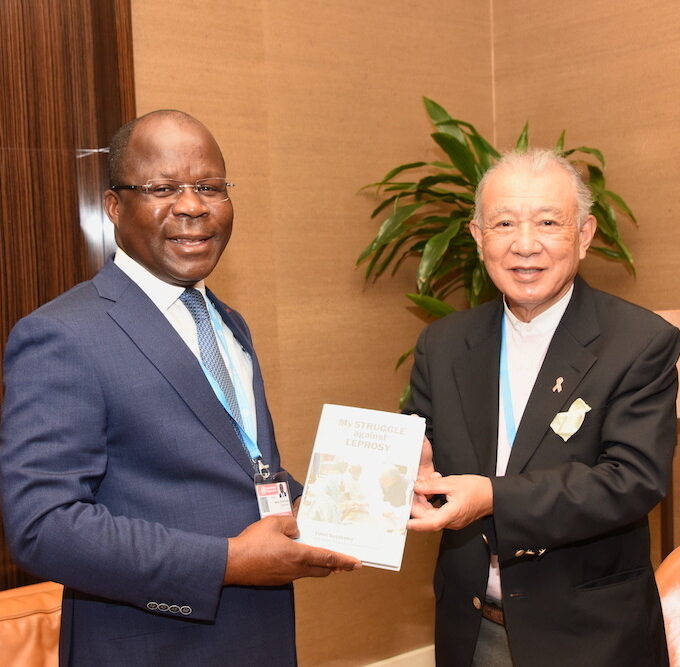 Mr. Pierre N'gou Dimba, Minister of Health, Public Hygiene and Universal Health Coverage, Côte d'Ivoire
Cote d'Ivoire has just finished creating a roadmap and action plan for achieving
zero leprosy by 2030. The minister asked the goodwill ambassador for advice related to achieving this goal.
---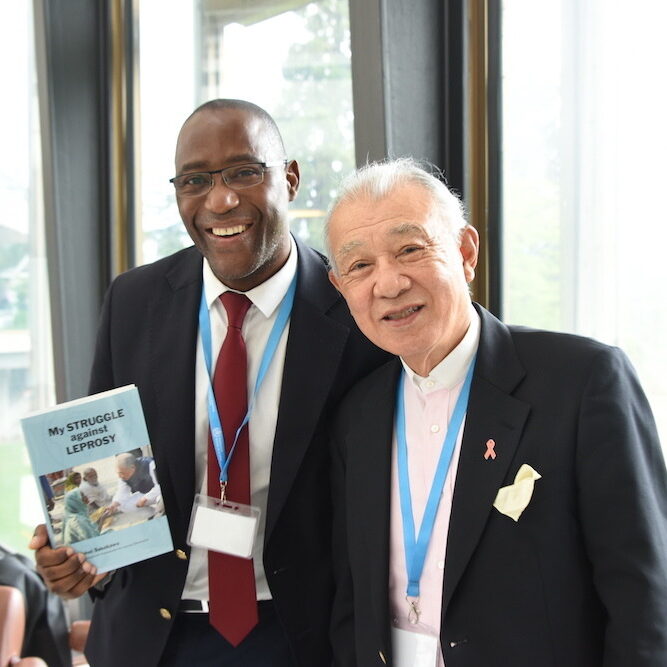 Professor Dr. Armindo Daniel Tiago, Minister of Health, Mozambique
Collaboration with WHO and the goodwill ambassador is essential for eliminating leprosy from Mozambique.
The minister wished Goodwill Ambassador Sasakawa 100 years of life, and asked him to continue his work until leprosy is completely eliminated.
---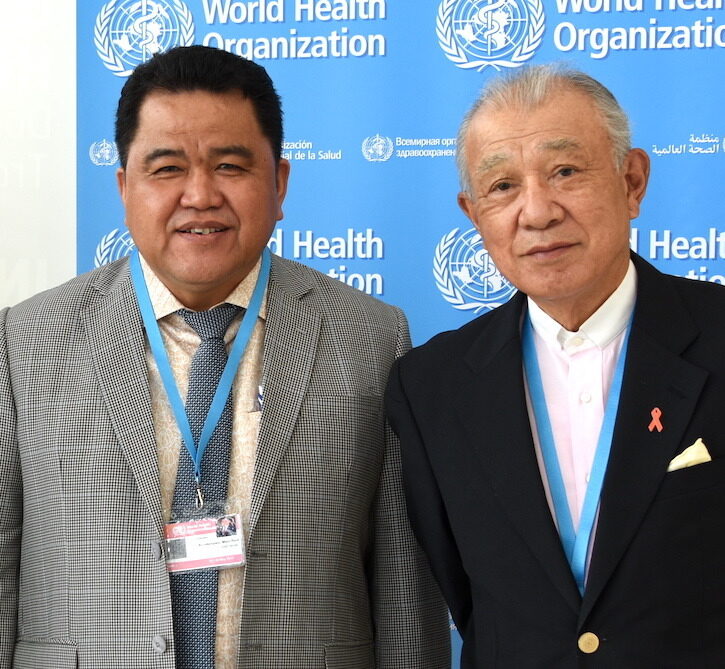 Dr. Maxi Rein Rondonuwu, Director-General of Prevention and Disease Control, Indonesia
Indonesia's leprosy control program aims to achieve elimination as a public health problem at the provincial level by 2024, and its activities include awareness-raising in communities, new case detection, and prophylaxis with
single-dose rifampicin.