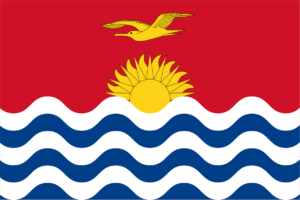 Erei Rimon
National Leprosy Elimination Program Manager
Republic of Kiribati 
Kiribati (pronounced "Kiribas") is an independent republic composed of 33 coral islands straddling the equator in the central Pacific Ocean. As of 2020, the estimated population of Kiribati was 119,446 people.

Kiribati is among the three remaining countries in the Pacific region yet to achieve the World Health Organization (WHO) target of reducing the prevalence of leprosy cases to less than 1 per 10,000 population at the national level. Each year, the leprosy program has detected more than 100 new cases, which gives a prevalence rate that is more than 10 times higher than the WHO elimination target. Active early case detection activities — including household contact screening, population screening, school screening, awareness campaigns, and a skin clinic — are conducted across the country.
Impact of COVID-19
Kiribati has not had any cases of COVID-19. However, one of the impacts of the pandemic was that the country closed home visits as a precaution for a period of three weeks. This meant that activities such as contact tracing and Post-Exposure Prophylaxis (PEP) were placed on hold for that period of time. However, once the shutdown was lifted we were able to resume promptly. There have been delays in funding from some of our donor partners, but the PEP project and routine work has continued largely unaffected. Our active early case detection activities found more new cases in 2020 than they did in 2019.
Challenges
As an ongoing issue unrelated to the pandemic, staff shortages affect planning and implementation of activities. Completing activities within a specified time frame is especially challenging. With additional staff, leprosy services in Kiribati could be improved.
In addition to staff shortages, delays in funding affect the leprosy program's ability to complete activities according to an annual work plan. There is a chain reaction where delays in funding lead to delays in implementation, which then cause delays in completion. The national program is committed to working with its donor partners so that these delays can be reduced.