Initiated by the WHO Goodwill Ambassador for Leprosy Elimination in 2006, the annual Global Appeal to End Stigma and Discrimination against Persons Affected by Leprosy takes place annually in January in conjunction with World Leprosy Day. Each year, the Goodwill Ambassador reaches out to individuals and organizations from different fields to endorse a written statement and attend related events. This year, he invited philanthropic foundations to join him in calling for an end to marginalization of persons who have experienced leprosy and the realization of a just and equitable society that respects the human dignity and fundamental freedoms of all its members. Because of the COVID-19 pandemic, for the second year in a row all Global Appeal-related activities will take place online.
Jan. 9: Photo contest
In October, Sasakawa Leprosy (Hansen's Disease) Initiative announced a social media photo contest with the theme "Don't forget leprosy." Participants were advised to post photos with the hashtags #DontForgetLeprosy, #DontForgetHansensDisease, and #GA2022 depicting the daily lives of persons affected by leprosy and any activities undertaken during the pandemic to support their communities. Jan. 9 was the deadline for participation, and selected photos can be viewed on the Global Appeal website.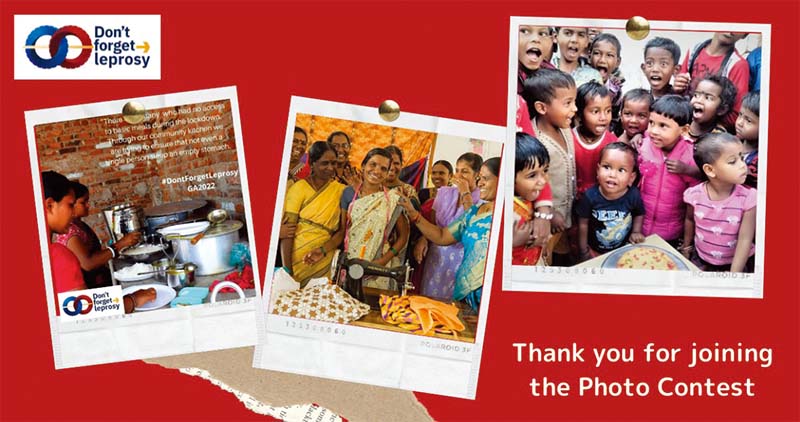 Jan. 20 and 25: Webinars
"Role of Health Professionals at the Grassroots Level"
This webinar, held on Jan. 20,  focused on the efforts of healthcare professionals who work at the grassroots level to detect leprosy cases and prevent disability amid the COVID-19 pandemic. Some success stories were introduced as potential best practice models that participants could adapt for their local circumstances. A recording of this webinar is available on the Global Appeal website.

"Role of Youth: Discussions Shared from 3 Regions"
Later this year, for the first time, the Initiative will host  a Global Youth Forum to stimulate discussions between young people working to solve leprosy issues and leaders of people's organizations. In preparation, three regional meetings were held in December 2021 and January 2022 (see page 7). At the webinar on Jan. 25, young participants shared the results of their regional meetings and discussed their role with the WHO Goodwill Ambassador. A recording of this webinar is available on the Global Appeal website.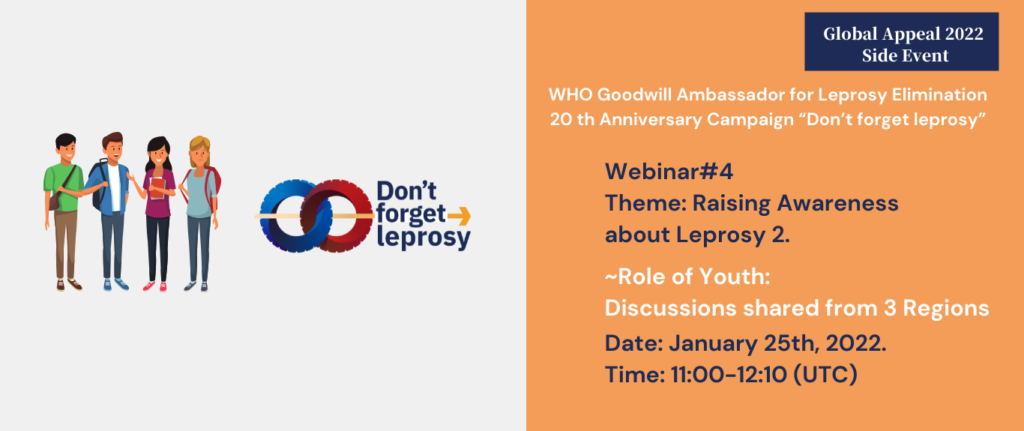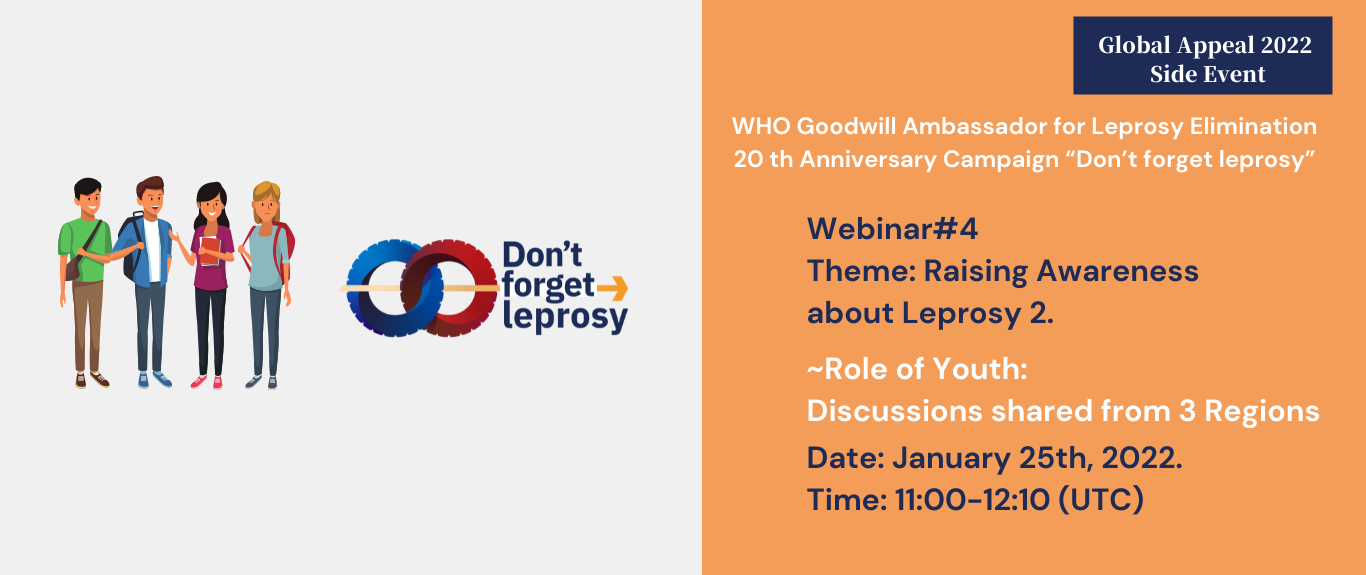 Jan. 28: Website
A dedicated website for the Global Appeal launched on Jan. 28. In addition to the content described above, the website includes video messages from invited contributors and edited interviews of the Goodwill Ambassador and Mr. Jamshyd Godrej, President of CII Foundation, on the topic of what philanthropic foundations must do to demonstrate that they have not forgotten leprosy.