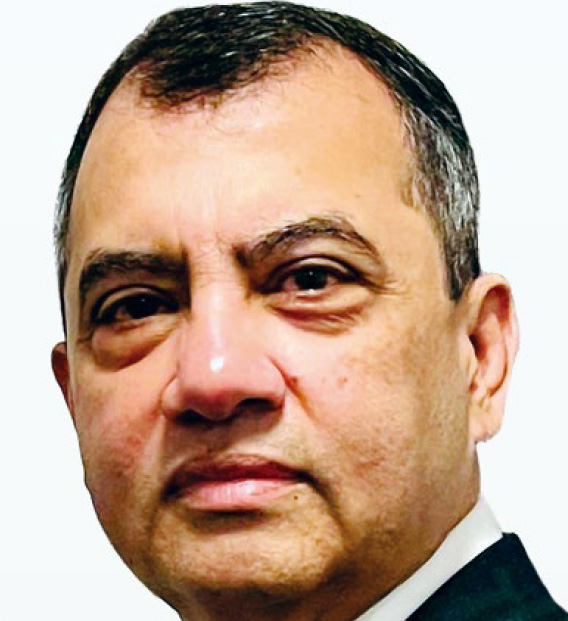 Saber Hossain Chowdhury
Member of Parliament (MP), Bangladesh
Honorary President, Inter-Parliamentary Union (IPU)
Chairman, Parliamentary Standing Committee on Ministry of Environment,
Forest and Climate Change, Bangladesh

https://en.saberchowdhury.com
Twitter: @saberhc
Saber Hossain Chowdhury is an incumbent Member of Parliament (MP) in Bangladesh. From 2014 to 2017, he was President of the InterParliamentary Union (IPU), which aims to promote peace, democracy, and sustainable development around the world. In this role, he led the IPU's endorsement of the 2017 Global Appeal to End Stigma and Discrimination against Persons Affected by Leprosy. Mr. Chowdhury is known for introducing and securing the passage of a bill that repealed the 1898 Lepers Act, a law from Bangladesh's colonial period that segregated leprosy patients from society and their families. The Leprosy Bulletin asked for his thoughts on how more people, and especially legislators, can be encouraged to take action against discriminatory laws in their countries.
LB (Leprosy Bulletin): Mr. Chowdhury, you introduced a Private Member's Bill in Bangladesh Parliament that was instrumental in securing the 2011 abolition of the discriminatory 1898 Lepers Act. How did you get involved in this issue and what was the driving force behind your efforts? 
Mr. Chowdhury: Yes, I introduced the Bill and it became an Act of Parliament when it was enacted. As a public representative, I have always tried to champion issues relating to rights and ensure that the law applies equally to all without discrimination. 
Mr. Saber Hossain Chowdhury in his role as Member of Parliament (MP) addressing the Jatiya Sangsad, the supreme legislative body of Bangladesh.
My involvement started when the Bangladesh office of Leprosy Mission International got in touch with me and requested my assistance in repealing the act. The Lepers Act was from Bangladesh's colonial era. It discriminated against those with leprosy and stipulated segregation when it came to treatment. I took an immediate interest in the matter.
I interacted in person with those affected by the disease (including children) and listened to them as they talked about their needs. Repealing the act became a priority for me, and I am so happy this has been done. 
LB: It has been over 10 years since the law was abolished. What effect do you think the abolition of the law has had? Have you noticed any changes in the lives of persons affected by leprosy in Bangladesh?
Mr. Chowdhury: From the point of view of their access to treatment, things are a little better, but in terms of their overall socio-economic condition, much work needs to be done. Mindsets and attitudes take time to change, and so we have to persevere.
LB: There are still over 100 laws around the world that discriminate on the basis of leprosy. People are making efforts to have these laws repealed. As someone who has succeeded in bringing about the abolition of one such law, could you offer some advice on how legislators can be persuaded to make changes?
Mr. Chowdhury: I am sure if you study the constitution of the countries where such discriminatory laws still exist, the principles of equality, equity and non-discrimination will feature clearly. 
Further, laws should reflect the values of society and it is absolutely wrong and inequitable that we still continue to carry burden of such discriminatory laws. This, coupled with the fact that advances in treatment protocols and medical science means that leprosy is a condition that can be safely treated in public hospitals, should persuade legislators in those countries to act and repeal such laws.
LB: WHO Goodwill Ambassador Yohei Sasakawa has led an annual Global Appeal to End Stigma and Discrimination against Persons Affected by Leprosy since 2006. You were involved in 2017 as the president of the Inter-Parliamentary Union when the IPU endorsed that year's appeal. What role do you think lawmakers can play in helping to resolve leprosy issues, and how can they be motivated to take up leprosy as an issue when it may not seem like a priority for them? 
Mr. Chowdhury: As Goodwill Ambassador, Mr. Sasakawa has been a wonderful and outstanding champion and he has my deepest appreciation, regard, and respect for his untiring efforts to end the stigma and discrimination against persons affected by leprosy. It was an absolute honor and a singular privilege for me to lead the IPU when we endorsed that year's appeal.
Mr. Saber Hossain Chowdhury in his role as President of the Inter-Parliamentary Union (IPU) endorsing the 12th Global Appeal to End Stigma and Discrimination against Persons Affected by Leprosy (New Delhi, India, 2017).
Lawmakers have a critical and pivotal role as they are mandated by the constitution to repeal, enact, or amend laws, as the case may be. This is their business, duty, and responsibility. Access to health for all is everyone's responsibility as is the requirement that all are treated equally and none are discriminated against.
So I sincerely hope and wish that lawmakers in relevant countries will make resolving leprosy-related issues their priority and act accordingly, even if no one in their own constituencies is affected by the disease. We are elected by our constituents, but our responsibility is to do what is good, right, and proper for the country in addition to working for those who elect us.
LB: The Goodwill Ambassador says that we need to build an inclusive society in which diversity is recognized and everyone — including persons affected by leprosy and persons with disabilities — can flourish. As someone who is active not only in Bangladesh but internationally in cooperation with the United Nations, what do you think is required to build a society that leaves no one behind, as called for in the 2030 Sustainable Development Goals (SDGs)?
Mr. Chowdhury: A chain is as strong as the weakest link and hence if one amongst us fails, we all fail. We must embrace this spirit and make it clear to all that flourishing as a species is not possible when many are being left behind. It is an unfortunate fact that the world has become more unequal, and based on current trends and trajectory, achieving the SDGs will take us decades beyond 2030. The global pandemic has made the challenges even steeper. 
We are in the midst of a climate and planetary emergency and we have to rethink and reimagine development, funding, governance, and how multilateralism can be revamped. It is a tall order but failure is not an option and hence we must rise to the challenge.
LB: Finally, do you have a message for readers of the Leprosy Bulletin? 
Mr. Chowdhury: Our world desperately needs change. Rather than wait for others to bring this about, why not be the change you wish to see in the world? We can all make a difference.
Twitter post by Mr. Saber Hossain Chowdhury (@saberhc) about the need for Members of Parliament (MPs) to get involved in hastening progress toward the 2030 Sustainable Development Goals (SDGs) (posted March 11, 2022).