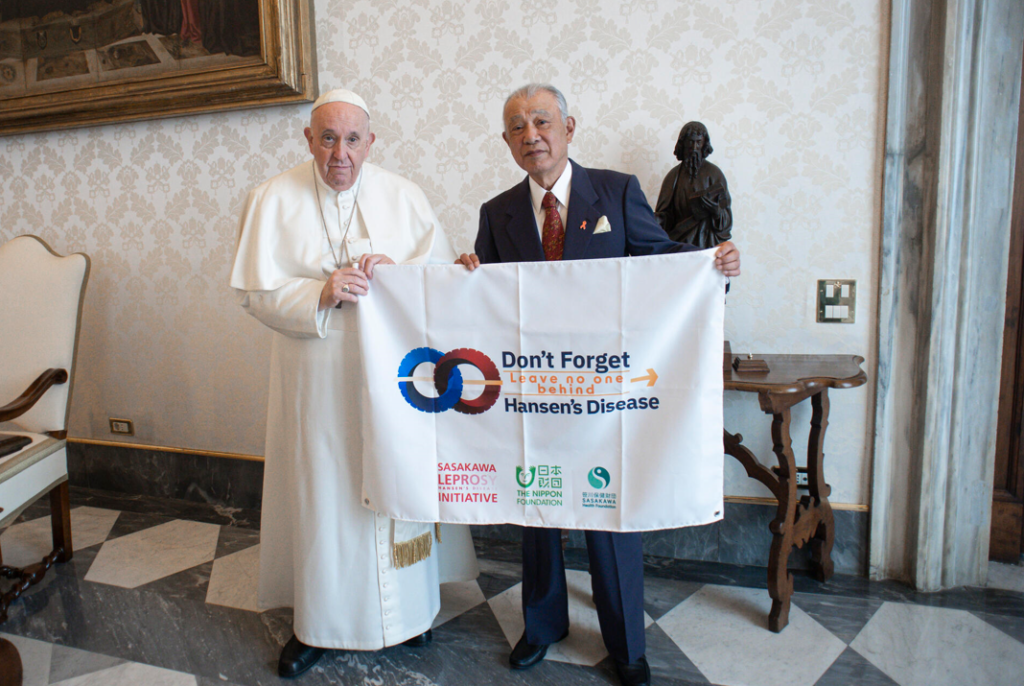 On Jan. 23-24, 2023, the International Symposium at the Vatican on Hansen's Disease was held at the Augustinian Patristic Institute, in cooperation with the Dicastery for Promoting Integral Human Development, on the theme "Leave No One Behind." The 18th Global Appeal, held every year in proximity to World Leprosy Day since 2006, was launched during the Symposium and endorsed by organizers and participants.
About 130 people from more than 20 countries participated in the Symposium, including government officials, international organizations, leprosy-related groups, non-governmental organizations, researchers, and media representatives. Volker Türk, United Nations High Commissioner for Human Rights, and Dr. Tedros Adhanom Ghebreyesus, Director-General of the World Health Organization, sent video greetings. Pope Francis provided a written message.
Following the Symposium, on Jan. 26, I had the honor of a private audience with the Pope. To eliminate stigma and discrimination associated with leprosy, cooperation of the Catholic Church, which has over 1.3 billion members worldwide, is essential. I hope that the connections that were made this January will catalyze positive change.
My thoughts align with these words from the Pope's message: "We must not ignore this disease, which unfortunately still afflicts many people, especially in the most disadvantaged social contexts. . . . I hope that this conference may contribute to bringing together voices from all over the world to discuss the measures that can be adopted to further promote respect for human dignity." Under the banner of "Don't Forget Leprosy / Don't Forget Hansen's Disease," may we all work together to help as many people as possible!

Yohei Sasakawa
WHO Goodwill Ambassador for Leprosy Elimination