Diana Patricia Medina Córdoba
Vice President
Asociación de Pacientes de Hansen en Bolívar (Asohanbol)
Colombia is divided territorially into a capital district and 32 departments. Nine of these departments have associations of persons affected by leprosy (Hansen's disease). The associations coordinate their activities through the Federation of Associations of Persons Affected by Hansen's Disease (Felehansen).
My name is Diana Patricia Medina Córdoba. I was born in Cartagena, a port city in Colombia that faces the Caribbean Sea. When I was 10 years old, I was diagnosed with Hansen's disease. I am one of four people in my family to have had the disease. My father was diagnosed first, and then when a health team visited our home and checked the rest of our family, my sister, my uncle, and I were diagnosed as well.
Dr. Martha Cecilia Barbosa Ladino of DAHW German Leprosy and TB Relief Association (GLRA) guided me through each step of my journey with Hansen's disease – from diagnosis, through treatment, and its aftermath. She helped me and those around me to accept my diagnosis with greater understanding.
My city is the capital of a department called Bolívar. Over time, I discovered that there are many other people in Bolívar who have experienced Hansen's disease, and together they formed the Asociación de Pacientes de Hansen en Bolívar (Asohanbol). Members of the association welcomed me, and as I got more involved, I learned more about the disease. I understood clearly that it has a cure and that timely treatment can prevent disabilities.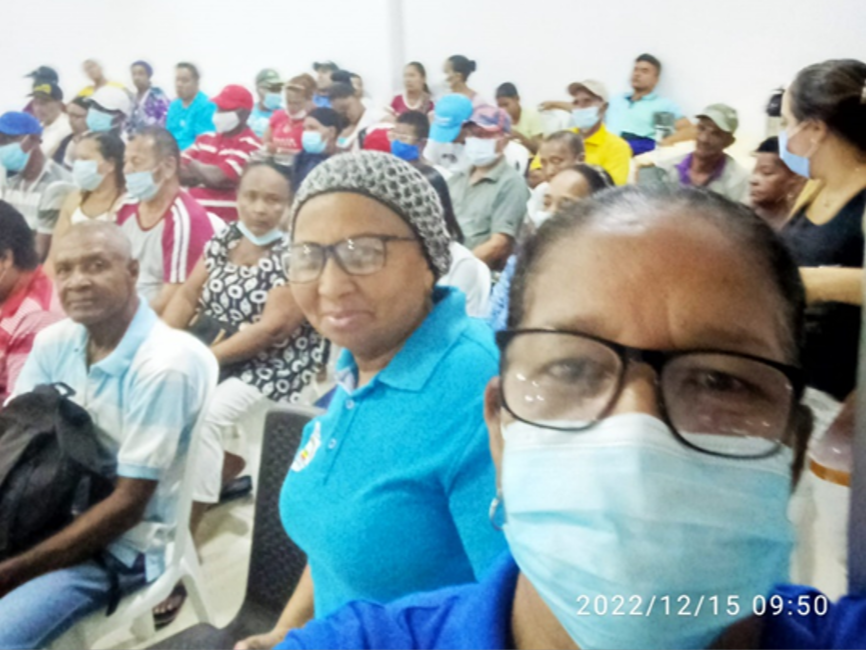 Now, at age 31, I am an active member of Asohanbol. As vice president, I belong to the board of directors, and I participate in the public health support group for the district of Cartagena. For seven years, I have also been an educational agent for health, which involves sharing knowledge of Hansen's disease to eliminate discrimination and stigma. My colleagues and I use our own life stories to promote awareness, disability prevention, and inclusion throughout society. We talk to people in rural and urban areas, the national army, the police, health professionals, and schools. We believe firmly that a fairer world free of discrimination can only be achieved by working together.
Asohanbol is not alone in its efforts. We are one of nine associations that coordinate activities under an umbrella organization called Federación Nacional de Asociaciones de Personas Afectadas por Hansen en Colombia (Felehansen). Felehansen was founded in 2014 to give the associations and persons affected by Hansen's disease a greater presence at the national level. Each member association represents a department in Colombia with a relatively large number of cases.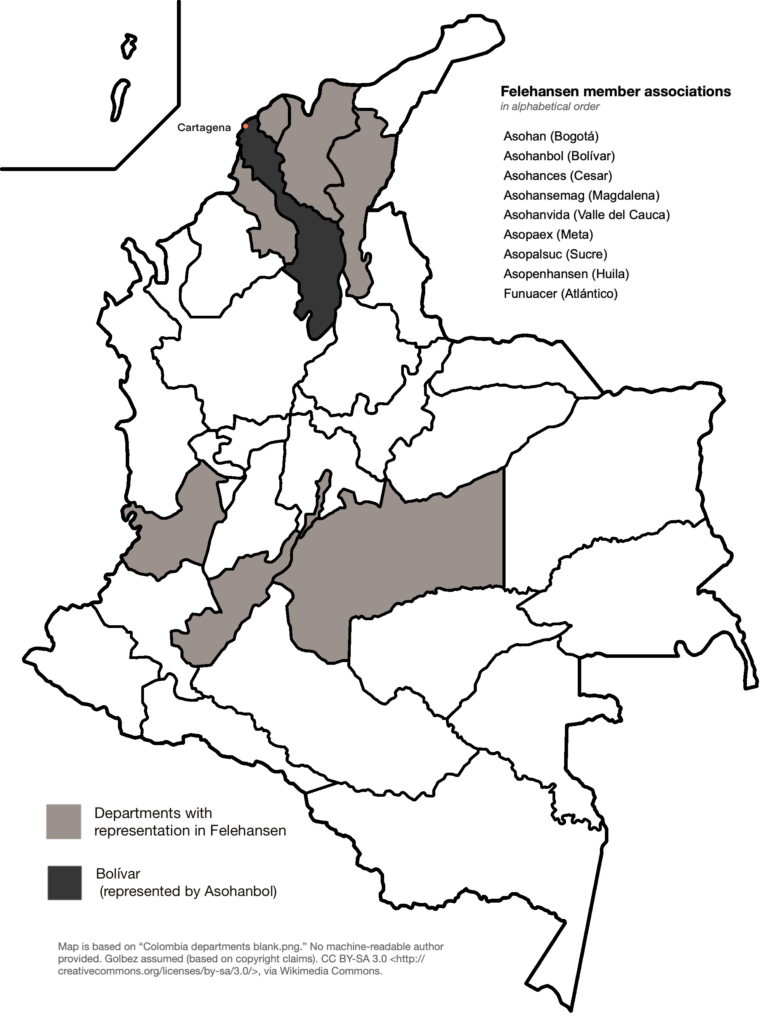 Working together through Felehansen has made us into more knowledgeable leaders for our regions. Felehansen also helps us to strengthen our associations through coordinated workshops and projects, advocate at the national level for comprehensive care, and represent our associations at significant national and international events.
I thank God for the opportunity to connect with Asohanbol and join with fellow Felehansen members to find people who have been forgotten and give them a voice. Together we can be part of the solution, building a just world where Hansen's disease is not a reason for mistreating people, banishing them, or justifying violence or discrimination of any kind, because in the eyes of God, we are all equal.
I also thank Felehansen's president, Lucrecia Vásquez, for her dedication and patience and the Sasakawa Leprosy (Hansen's Disease) Initiative for believing in us and recognizing the strength of persons affected by the disease to overcome obstacles related to it. Thank you all for allowing me to be part of this big family. Each one of you will always be in my heart.