Contributed by World Health Organization (WHO) India
Under India's National Health Mission, every village in the country has a trained female community health worker who is both selected from the village and accountable to it. These women have the title Accredited Social Health Activist (ASHA), and they are trained to work as an interface between the community and the public health system. They are responsible for mobilizing the community and facilitating access to health services at both primary health centers as well as sub-centers closer to the village.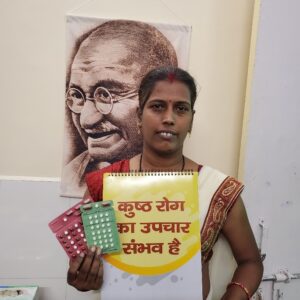 Here we introduce Ritu, an ASHA based in Nayagaon village, Gautam Buddha Nagar district, state of Uttar Pradesh. During the COVID-19 pandemic, she supported efforts to create awareness about the new disease and assisted in screenings and referrals in addition to continuing to perform routine duties. For leprosy patients, she provided multidrug therapy (MDT) drugs at their doorstep, ensuring regular treatment.
Leprosy has such varied presentations that it is useful for ASHAs like Ritu to have visual aids to help everyone learn to recognize the signs and symptoms of the disease. When everyone knows what to look for, community screenings more reliably result in early detection and treatment. ASHAs also need information leaflets and brochures to demonstrate how persons affected by leprosy should take care of their hands, feet, and eyes, and recognize complications. These materials help persons affected by leprosy and their families to follow through on the continuous care necessary to prevent development of disabilities. Efforts to train and empower ASHAs, who serve as frontline health workers, bring rich dividends in terms of strengthening the health system at the community level.