Saksham Kushthanteya Swabhimani Sanstha (SKSS), India
SKSS is a community-based (non-colony) organization of, for, and by persons affected by leprosy in Maharashtra, India. The organization strives for an inclusive society wherein persons affected by leprosy and their family members are able to live dignified lives on par with fellow citizens.
https://www.skssleprosy.org
Between January and May 2022, Saksham Kushthanteya Swabhimani Sanstha (SKSS), a community-based organization of persons affected by leprosy, carried out a project to collect data on the impact of leprosy and COVID-19 on the lives of persons living in tribal/rural communities in the Chandrapur and Gadchiroli districts of Maharashtra, India. The project was funded by a grant from the Sasakawa Health Foundation as part of its Don't Forget Leprosy campaign and implemented with technical support from SKSS's partner organization, ALERT India.
The 5-month project involved a workshop to develop survey tools and a survey plan; orientation and capacity-building for field investigators; a survey; and a workshop to plan post-survey interventions.
The districts where the survey was conducted, Chandrapur and Gadchiroli, are among the top 10 leprosy-impacted districts in India. A total of 1,910 participants were reached through personal interviews and focus group discussions, including 595 persons affected by leprosy, 605 family members, and 640 members of the general population (as a control group).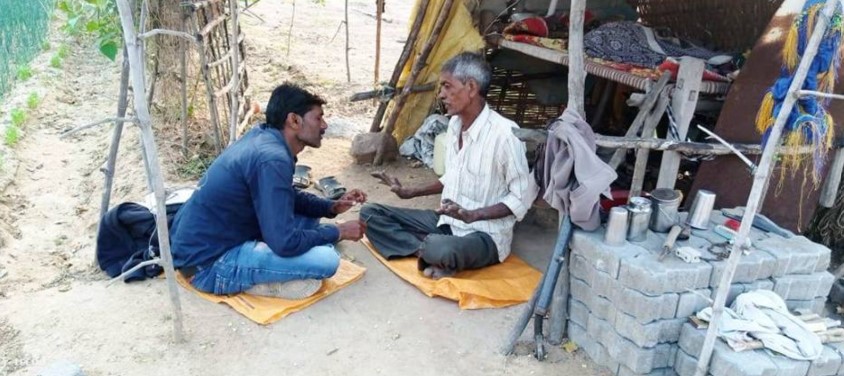 Regarding the health impact of COVID-19, only 2% of persons affected by leprosy and their family members had been infected by the virus versus 7% of the control population (self or family). However, health service accessibility was affected by the pandemic, and 10% of respondents with lepra reaction and 9% with disability said that there had been disruptions to the supply of medicines or leprosy-related services.
Most of the persons affected by leprosy who were interviewed belong to the lower socio-economic strata of society. More than half of them do laboring jobs to earn a living, and only 11% have a family income of more than 10,000 rupees per month. Their sources of livelihood were badly disrupted during the pandemic; 14% said that their income has yet to return to pre-pandemic levels.
The study also confirmed the existence of stigma and discrimination, with 23% (138/595) of persons affected by leprosy saying that they experienced it, either recently or in the past. Their experiences include being isolated within the family and being pressured to stay in a colony. Nearly half of those reporting stigma and discrimination (62/138) experienced it in relation to marriage, including being abandoned by a spouse and rejection while looking for a life partner for themselves or a family member.
Participating in the project has strengthened SKSS as an organization and improved its capacity to undertake field-level, evidence-based intervention projects. The organization is planning to use the results in advocacy with policy makers.