Sasakawa Health Foundation (SHF) annually supports the national leprosy programs of nearly 40 countries through the World Health Organization's Global Leprosy Programme (WHO GLP). SHF and WHO GLP organized a session on projects initiated by the national leprosy programs of four countries — Bangladesh, Brazil, the Democratic Republic of Congo, and India — on the theme of early case detection to achieve interruption of transmission. Opening remarks were provided by Takahiro Nanri, SHF's executive director, and Dr. V. R. Pemmaraju, WHO GLP's acting team leader.
Representing Bangladesh, Dr. Shakil Ahmed shared how extended contact surveys revealed hidden cases in areas that had previously reported no cases for a number of years. In response, Bangladesh began training persons affected by leprosy to be "champions" who can help with awareness raising and identification of suspected cases in the community. During the COVID pandemic, Bangladesh also introduced telecare for treating complications.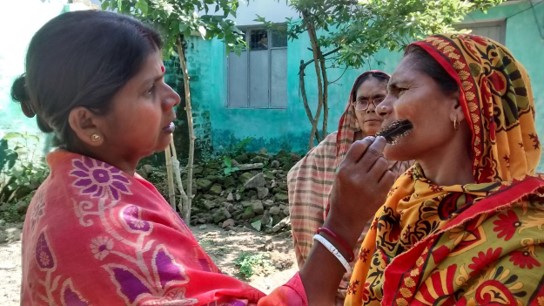 On behalf of Brazil, Dr. Carmellita Ribeiro Filha Coriolano presented on a project that gave training in case finding and case management to staff at basic health units and mobilized patients and contacts in the community to help spread awareness for the purpose of increasing case detection. The project also addressed stigma and discrimination.
Speaking for DR Congo, Dr. Ngondu Lobuta Florent described a leprosy detection intensification project that was implemented in nine provinces from 2021 to 2022. The project led to an increase in the detection rate and 100% multidrug therapy (MDT) coverage of new cases in the target areas and reduction in the proportion of new cases with grade 2 disability. One of the keys to making the project work was using political-administrative authorities to raise awareness and mobilize populations.
India's Dr. Anil Kumar focused on the country's use of Accredited Social Health Activists (ASHA) for case detection under its ASHA-based surveillance for leprosy suspects (ABSULS) program. Introduced in 2017, ABSULS was designed to strengthen routine case detection and address the need for quality surveillance for leprosy in the community. Each ASHA is responsible for around 200 households and reports the number of suspects (zero or above) for the previous month. The information is compiled by supervisors and validated by field visits. This active surveillance in the community is designed to ensure early detection and reduce disability at diagnosis.
The four projects align with WHO's Global Leprosy Strategy 2021-2030: Towards zero leprosy.