On Jan. 26, 2023, while in Rome to attend the International Symposium at the Vatican on Hansen's Disease, WHO Goodwill Ambassador for Leprosy Elimination Yohei Sasakawa had an audience with Pope Francis at the Apostolic Palace in Vatican City.
After thanking the Pope for the message that he wrote to Symposium participants and for the cooperation of the Holy See's Dicastery for Promoting Integral Human Development, the Goodwill Ambassador conveyed news of the Symposium's success. He expressed his hope for a future opportunity to update the Pope on the progress of leprosy elimination activities, especially considering the large number of Hansen's disease patients in South America, where there are many members of the Catholic Church. The Pope answered graciously that the door is always open.
The Goodwill Ambassador took the opportunity to inform the Pope about the stigma and discrimination that still exist today, including discriminatory laws and harsh living conditions. In response, the Pope acknowledged that the fight against leprosy continues in Argentina, where he was born and lived most of his life. He highlighted the Catholic Church's activities and expressed gratitude for the Goodwill Ambassador's efforts. He also stated that leprosy is a curable disease and noted that curability should motivate everyone to actively engage in case-finding activities.
Based on knowing that the Pope had visited Japan in 2019, the Goodwill Ambassador asked him about his most salient memory. The Pope spoke of visiting Nagasaki and brought out the photograph that he had made into a postcard just before the Catholic Church's World Peace Day on Jan. 1, 2018. The photograph, taken in the aftermath of the atomic bombing, shows a young boy carrying his dead younger brother on his back, waiting for his turn at a cremation site. The postcard included the words "il frutto della guerra (the fruit of war)" and the Pope's signature. During the conversation, he said strongly that war is a tragedy and must not be repeated.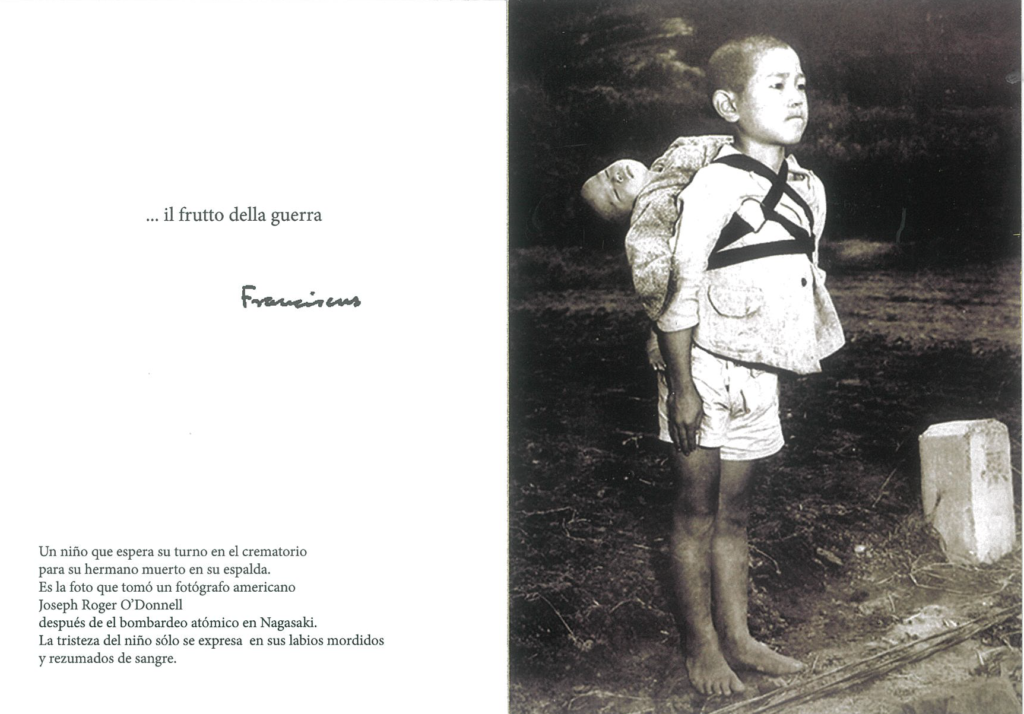 The Goodwill Ambassador shared his personal experience of the Tokyo firebombing. He was six years old at the time and, along with his bedridden mother, miraculously survived the living hell of seeing people screaming and dying from the flames. He thinks of this experience as the origin of his current humanitarian activities.
The Catholic Church has over 1.3 billion members worldwide and operates about 5,000 hospitals and 15,000 health centers, mainly in developing countries, as well as more than 500 leprosy sanatoriums. Pope Francis's supportive words and open door raise hopes for ongoing cooperation towards a leprosy-free world.