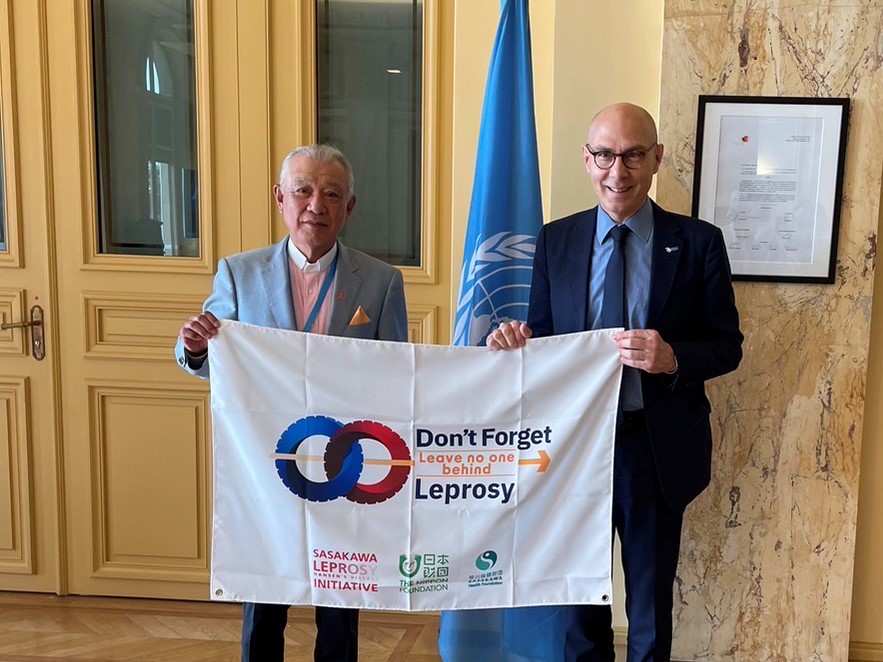 May 22–26, I attended the 76th World Health Assembly in Geneva, Switzerland. Last year, some of the annual gathering's activities were still online, but this year I did not notice any impact from the COVID-19 pandemic.
As in past years, I kept a busy schedule with a focus on countries where leprosy is endemic. I met with health ministers from 17 countries (Angola, Bangladesh, Brazil, Comoros, Cote d'Ivoire, Egypt, Ethiopia, India, Indonesia, Kiribati, Madagascar, the Marshall Islands, Nepal, Norway, Pakistan, South Sudan, and Sri Lanka). In addition to urging them to tackle leprosy and related issues, I asked for their cooperation with the "Don't Forget Leprosy" campaign.
I also met with Dr. Tedros Adhanom Ghebreyesus, Director-General of the World Health Organization, and Mr. Volker Türk, United Nations High Commissioner for Human Rights. I told the High Commissioner that, according to my estimate, tens of millions of persons affected by leprosy and their family members are still suffering from discrimination, and I asked for his help in changing the situation.
Through discussion with representatives from various countries, I learned that leprosy elimination activities that had stalled because of the pandemic are showing signs of resumption. I received requests for visits from many countries, including Brazil, where there is a new government, and Pakistan, where I have never visited. I believe that "answers are to be found where the problems are," and so I feel grateful for these requests. I am eager to do all that I can to accelerate the pace towards a leprosy-free world.

Yohei Sasakawa
WHO Goodwill Ambassador for Leprosy Elimination