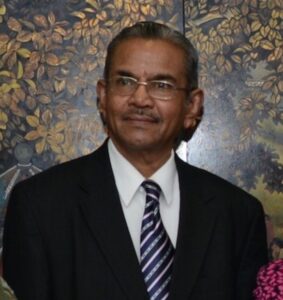 Dr. P.K. Gopal passed away on March 18, 2021. Born in Tamil Nadu, India, Dr. Gopal was diagnosed with leprosy at the age of 12. After being cured, he devoted his life to helping others affected by the disease. In 2005, he founded the National Forum, the first organization in India formed by and for persons affected by leprosy. May his soul rest in peace.
Letter for a mentor
The National Forum is known today as APAL. The current president of APAL, V. Narsappa, shared his memories of Dr. Gopal.
Memories of Dr. Gopal
I am Narsappa, president of APAL. I had a good relationship with Dr. Gopal, and I have great memories of him starting from 2004. I especially remember his work for the national survey of leprosy colonies in India.
He was a very kind-hearted person who always worked for the good of everyone. He was an ardent social worker who became known both nationally and internationally as a great social activist. He received the Padma Shri award, one of the highest civilian awards in India, in recognition for his distinguished contributions to social service. He received many other awards as well.
I am grateful to him for connecting leprosy colonies around the country and forming a network. He conducted meetings, found the main common problems at the grassroot level, and worked for the elimination of leprosy-related stigma. He supported socio-economic empowerment, education for children, and infrastructure such as street lights and cement concrete roads for people living in leprosy colonies. He made me and many others into leprosy champions and national leaders through his motivational words. He taught me how to take on the problems of persons affected by leprosy as if they were my own problems and to work with perseverance to solve them.
His sincerity and dedication to his work will forever be appreciated, and his relationship with APAL is everlasting. There is a vacant place now that was once filled by his vigor. All of us at APAL deeply mourn his passing.
We pray for Dr. P. K. Gopal's soul to rest in peace. May God keep his soul with Him in Heaven.
Vagavathali Narsappa, President of APAL
2015 interview
A precious video of WHO Goodwill Ambassador Yohei Sasakawa interviewing Dr. Gopal in 2015 can be viewed on The Nippon Foundation's Leprosy Today website.
https://bit.ly/leprosy-today-special-interview